Microcontroller:
Microchip PIC12F675


As shown in Elektor 07/2009:
---
I have 4 completely assembled boards including 2 ultra bright LEDs left. If you like to buy one (or more) for just 29€ (excl. shipping) please do not hesitate to contact me.
---
The following circuit allows the control of full color LEDs (for example to illuminate an RC controlled aeroplane at night) depending on the stick position of the remote control (left: -100%, right: +100%):

---
The circuit has a mode button that can be pressed to select between 3 available modes:
blue to red
green to red
Color change (speed depending on stick position)
---

The completely assembled PCB. The two small boards contain an ultrabright full color LED (as shown above) with corresponding resistors.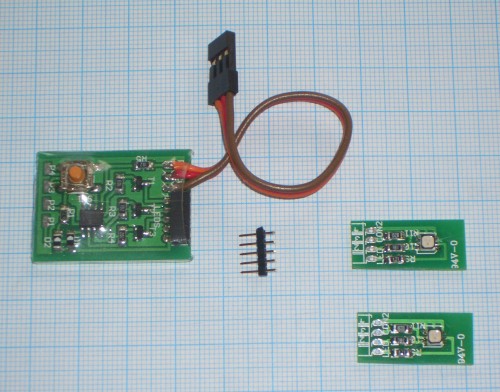 ---